Flex Support
Outsourcing enterprise IT operations with brij enables you to retain more control over your environment and enterprise applications. We've taken traditional managed services and made them flexible to meet all your enterprise application needs.
brij Flex Support Services
The brij team of senior support specialists work collaboratively with your enterprise application users and support team to deliver a wide array of reliable and scalable technical services that reduce overhead cost, lower risk and ensure you have the right resources at the right time.
Predictable support budget
Access to expert, Certified resources that serve as an extension of your internal team, delivering quality results
Higher service levels with dedicated expert resources supporting your cloud environment
Operational efficiency by freeing up your internal resources to focus on core business needs
Effectively manage IT expenses with flexible plans to support growth and change
Benefits of brij Flex Support
One of the largest benefits of Flex Support with brij is finding solutions to problems before they affect your business processes.
Additional benefits of brij Flex Support include:
A Complete Industry Team
CNC, Developer, CRM, Supply Chain, or HCM. Whatever you need, our flex support can be configured for your business
Accelerated Incident Resolution
Access to brij dedicated support teams' expertise for rapid incident resolution, including slowdowns & outages are dealt with immediately.
Reduced Costs
Cost-effective access to enterprise support providing control & minimized operating costs.
24x7x365 Coverage
As a result of monitoring 24 hours per day, 7 days a week, 365 days a year, businesses experience an additional level of comfort & security.
Heightened Security & Reduced Risk
Application monitoring to detect performance dips and avoid issues before they happen.
A la Carte Pricing
Build a flex support plan to meet your unique needs and budget.
Types of brij Flex Support Services Offerings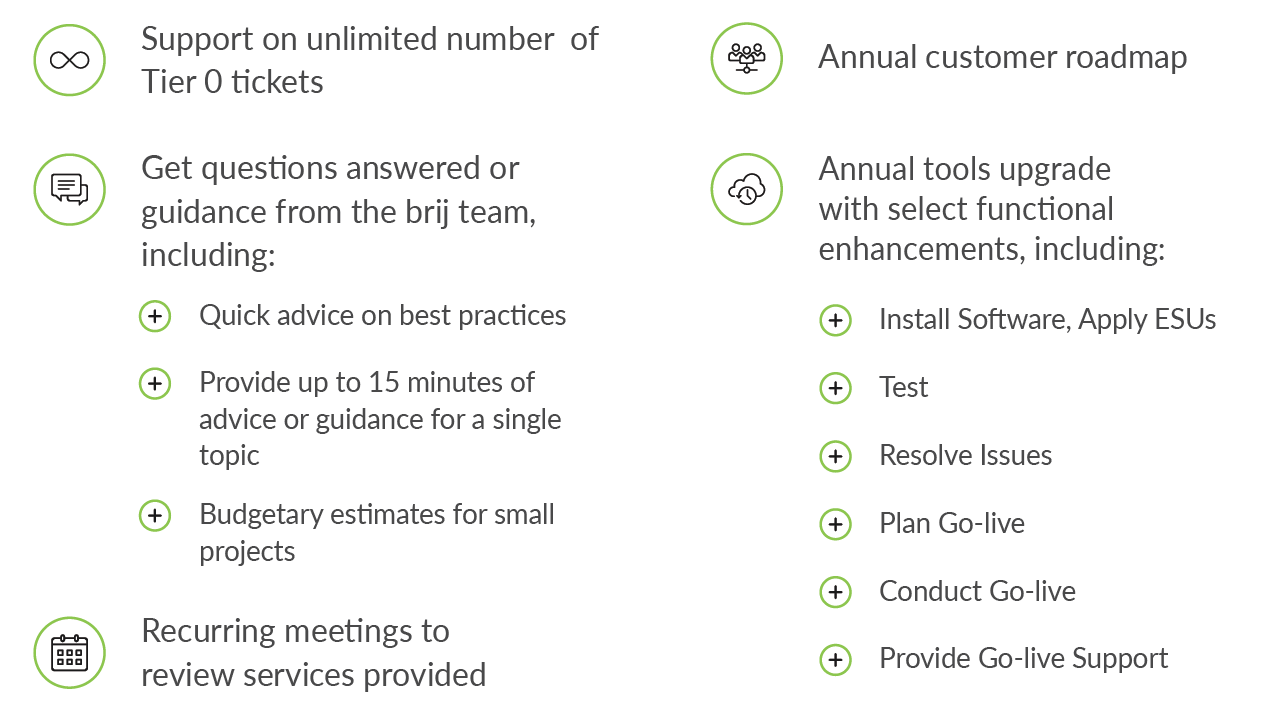 brij Service Delivery Team
Our highly educated, experienced and credentialed Project Managers and Consultants are assigned based on the specific skills and experiences that will make your engagement a success.