Awards & Specializations
Oracle Excellence Award Specialized Partner of the Year – North America
Consumer and Retail Industry Category
The Oracle Excellence Award Specialized Partner of the Year – North America Awards recognize partner solutions and best practices developed or delivered within a fiscal year. Honorees demonstrate excellence in categories including sales, marketing and solution development and are selected by a panel of judges that include IDC analysts and Oracle sales, marketing, and development executives.
Oracle Business Accelerators Qualified for JD Edwards EnterpriseOne

Oracle Business Accelerators are powerful, easy-to-use cloud-based rapid implementation tools that can reduce the time and costs of implementing enterprise applications for growing businesses. With brij's Oracle Accelerate Solution based on Oracle Business Accelerators, the result is predictable and expedited with a minimal risk in new technology adoption. To achieve Oracle Business Accelerators Qualified Status, Oracle partners complete a rigorous competence program created and managed by Oracle.
Oracle JD Edwards EnterpriseOne Distribution Specialization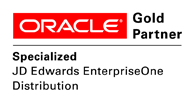 With over 25 years of JD Edwards experience, brij has proven expertise in Common Foundation, Distribution Configuration, Inventory Management, Sales Order Management, Procurement, Subcontract Management and Transportation Management. brij understands the distribution industry and the importance of developing optimum supplier relationships. By creating these key supplier relationships, distributors can benefit from a more flexible supply chain, resulting in the ability to be proactive and adapt to change more effectively than their competitors. Oracle Partner Network awards this specialization to partners who have displayed exceptional proficiency in selling, implementing and developing JD Edwards EnterpriseOne Distribution modules.
Oracle JD Edwards EnterpriseOne CNC Specialization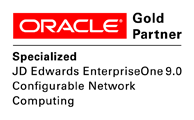 To achieve OPN Specialized status, Oracle partners are required to meet a stringent set of requirements that are based on the needs and priorities of the customer and partner community. By achieving a Specialized distinction, brij has demonstrated its experience in delivering services specifically around Oracle's JD Edwards EnterpriseOne CNC through competency development, business results and proven success. brij is proud to achieve Oracle's JD Edwards EnterpriseOne CNC Specialization. Achieving this Specialization status showcases brij's commitment to the Oracle's JD Edwards solution and their proven success in the marketplace.